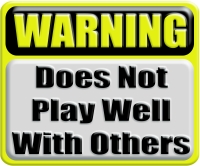 Your business success depends on your attitude.
What do you do and how do you express yourself when the chips are down and things don't go according to plan?
Trust me every day is not going to be sunshine; you will have your ups and downs. How you handle the ups and downs is the real question.  How do you stay positive when your bank account is low and your list of to-do is high? How do you stay positive when your bank account is looking good, but you're feeling crappy? Your business will prosper greatly if you build and consequently sustain a positive attitude. Even when things in your business are not going according to plan, you have to remember that you are not alone.
Your attitude towards your business is a daily choice.  You can make a choice to be positive or negative, excited or overwhelmed.  Keeping a positive attitude increases the confidence in yourself and your business capabilities.
A positive attitude is a productive attitude.  This makes finding prospective customers and servicing the existing ones, simpler. Your attitude will become infectious and this will allow others to feel comfortable and confident in referring and suggesting you to others or will make them feel as if they have to run the other way.
Start to take a look at how you are feeling about yourself and your business, and then review how you are showing up in market place.  Are you showing up as Ms. Understanding, Ms. Know it all, Ms. Egotistical? Are you showing up as Ms. Passive/ Aggressive, Ms. Supportive, Ms. Drama Queen, Ms. Reliable, Ms. Difficult to talk to or Ms. Overly Sensitive?
Here are some useful tips for you to expand on your positive attitude.
• Be warm and receiving to others, notice I said receiving not gullible.
• Check your atmosphere: Attitudes rub on to others very quickly. Spend more of your time with positive people you will automatically find yourself developing a more positive attitude.
• Be Proactive: The moment you are aware of an oncoming obstacle or challenge in business, solve it instead of leaving it to solve itself.
• Consider an Accountability Partner or a Coach: Many successful individuals hire coaches, mentors to attain success in their professional or personal business. These trusted advisors will assist you in deciding exactly what you require your business to yield.  You can contact my office to see if we can work together assistant@lucindacross.com, put "I am Ready" in the subject line.