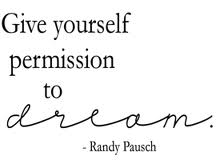 Do you remember your childhood dreams?  I was inspired after reviewing this video by Randy Pausch on his lecture called "The Last Lecture."
What are some of your childhood dreams?
How many of those dreams have you achieved?
Make this year the year that you begin to pursue some of those childhood dreams.
Here is a list of some of my childhood dreams:
write a book
meet the President
be a late night talk radio show jockey
be on the Huckstables show
travel to Africa
fly a plane
be an Actoress
be in the Guinness Book of World Records
be on the cover of a magazine
walk a modeling runway
Comment and share a few of your childhood dreams?