The Activate Coach Certification® is an exclusive program focused on unleashing creativity and sharing it with the world.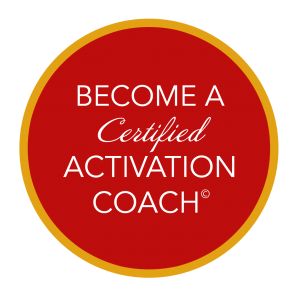 The Activate Coach Certification® Program will support you by supporting you in building and managing your brand position in the marketplace. Much different from general coaching certification programs where you are being told what to do.  The Activate Coach Certification® Program is positioned to assist you in the "how to do and when".
Basically we will equip you with the meat and potatoes of building a successful and sustainable globally recognized coaching practice.  If you are ready to turn your experiences and information into a walking empire, do what you love to do and have fun making money along the way, then we are the solution.
If you have thought about coaching and consulting and are now ready to join a winning team we welcome you with open arms.
The Activate Coach Certification® is designed to help you consult and advise individuals or organizations in just about every area of life, I consider the Fab 5: Faith, Family, Friends, Finances, Fitness, Faith and a bonus one is Fun.
Upon completing the Activate Coach Certification® Program, we hope you will continue this highly rewarding journey in developing yourself as a great Leader. To be a great Coach, leader or teacher, you have to be a great student and use everything for your advancement and development.
The Activate Coach Certification® is for you if:
You have a strong desire to create a business where you are paid well for helping others achieve their goals.
You are passionate about designing a creative habitat where you support and empower your organization's team members.
You are committed to designing a lifestyle business, that fits your life, on your terms.
The Activate Coach Certification® will:
Provide you with the vital tools and skills to shift individuals from procrastination to inspired action.
Provide you with systems to monetize your coaching business with proven strategies for acceleration and advancement.
Provide a step-by-step, simple yet effective process for connecting to you to your life work.
Teach you how to infuse creativity, past experiences and life challenges to make major life changes.
Upon completion of the Activate Coach Certification®, you will:
Become a Certified Activate Coach®  with the necessary tools, techniques and skills.
Have access to templates, scripts and pre-designed marketing materials, including a complete business forms, contracts and marketing package.
Have exclusive access to Lucinda's PLR (Private Label Rights) ebooks, special reports, and content at a steep discount. (translating into immediate profit for your business).

Create personal practices for becoming more effective in all areas 

of life as a coach.
Fill out the questionnaire to help us support you in your goals.  All applicants have to be approved and based on your level of commitment to your brand, message and leadership position.  The Activate Coach Certification® is for leaders.
We are not:
A Speaker Bureau
A Talent Agency
A Referral business
or
A reason to leave your job, well at least not just yet. LOL
Our Coach Certification program will support you in:
Brand Identity and Creative Services
Content Development
Marketing  and Events
Product Launches/Promotions/Business Meetings
Social Media Campaigns
Grass Roots Marketing
Team Building
Become a Media Expert
Access to client base
Speaker training
Product creation
Branding
Contracts
Proposals
and more.
Date: May. 5th to May 7th, 2017
Training Location: New Rochelle NY
Time: 3 Days LIVE, 10am-6pm Est. each day following 6 weeks of ONLINE training.
Fill out the application before June 1st. All Acceptance letters will be sent out by June 15th.
*Formal Graduation Ceremony September 20th, 2017 in Florida at the Inaugural Activate Experience.