Women of Excellence & Men of Vision awards for 2018
March 31 @ 12:00 pm

-

5:00 pm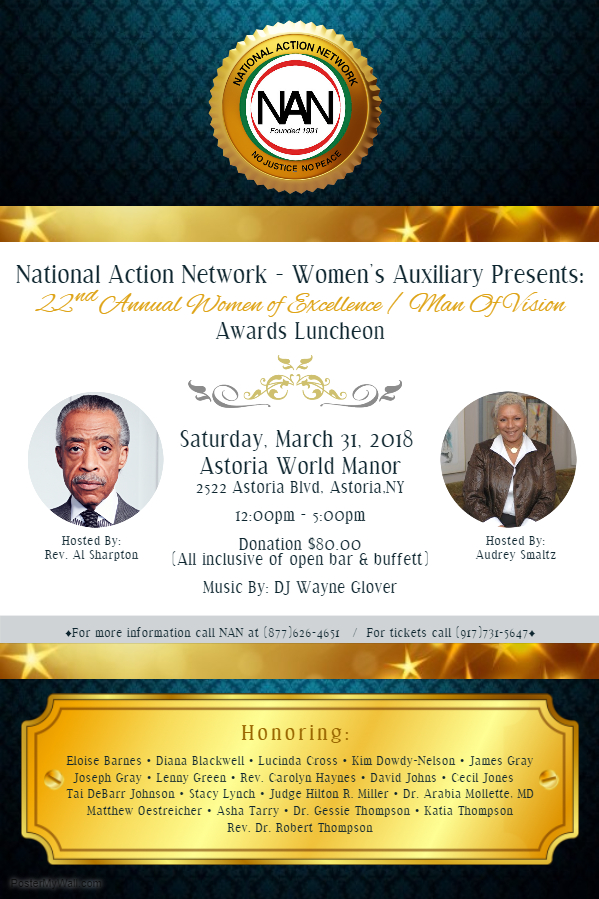 Twenty-Second National Action Network's Women's Auxiliary's Twenty Second Women of Excellence/Men of Vision Awards!
National Action Network (NAN) is one of the leading civil rights organizations with over 100 chapters across the country.  NAN works extensively to promote a modern civil rights agenda which includes a standard of decency for all people regardless of race or sex, social justice for all communities, education, non-violence, equality in healthcare and improvement of race relations. Through the years NAN has served as a megaphone for the voiceless and an advocate for those in need. For the past 21 years, the NAN Women's Auxiliary has taken pride in (Women's History) by honoring women and men from all walks of life for their exemplary community achievements, inspiration, and support
The event will be held on Saturday, March 31, 2018, from 1-6 p.m. at the Astoria Manor Banquet Hall 25-22 Astoria Blvd, Astoria, NY 11102.
For tickets please call the number listed on the flyer.