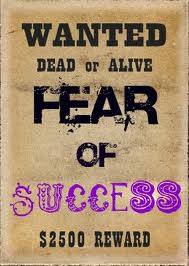 The FEAR bully never sleeps.  Just because you have made  strides to fight FEAR and be this FEARless being…FEAR is a bully, it's like the boogie man. It will show up in the form of your mom, dad, children, supervisor, husband, you name it.  But here is the remedy: Activation!…FEAR and Activation can't be in the same room, because there will be a good old western cowboy show down.
I remember during one of my workshops FEAR popped its head in and was loud and boisterous.  Side bar: FEAR will lose control if it feels like its being challenged, it will get loud or either tries to complain and cop a plea to get out.
So during my presentation, I addressed an issue that was bound to bring the FEAR out of the room and I talked about self sabotage. Well as soon as I addressed self sabotage in great detail, FEAR started to talk out loud, someone's FEAR even made them leave the room.  Now this is not because I was challenging them personally, but I was fostering a breakthrough using change strategies and FEAR wanted to fight back so that it would not be exposed.
In short, I called FEAR to the front of the room to be exposed and BAM! POW! BOOM! FEAR left the individual alone and the person was mentally free and focused enough to enjoy the rest of the workshop and receive her blessing.
Please don't let FEAR stop you from getting married, moving on with your life, starting a business, apologizing, forgiving, succeeding or even speaking or writing that book.  FEAR and Activation can't be in the same room, so who are you going to let rule your next step?
If you are interested in how to write that book, when to write that book, what you should write that book about and then what to do before, during and after you write the book—- join me on June 4th at 9pm EST (Call in Number 218-895-0814 Primary Passcode225323#) for a brief preview session on a workshop I have designed just for you called "Write It Already!". It's available in both live and webinar format for your convenience.  The preview call is free and will offer a chuck full of information. Here is the call in information, place it on your calendar, so you don't forget.
Oh, before I close, if you have not ordered your copy of the best seller The Road to Redemption, run over to http://www.lucindacross.com/beredeemed.  We have sold out for now, but we suggest you pre order so that when the shipment comes in next week you can get your copy shipped ASAP.