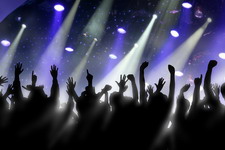 I know what you are saying to yourself, Lucinda has lost her marbles with this post.  But let me explain…
According to Wikipedia a groupie is an enthusiastic or uncritical follower and a fan is an ardent devotee; an enthusiast. I have been on social media for a while now and I have been a part of many groups on face book and twitter.  I personally only like to share with a select few with the intent to get to build, support and share any information that can them "ACCELERATE", (using our action word for the month) with thriving in their business and their life.
What I see now on face book is people adding you to groups without asking permission or even caring if it align with what you are doing.  People are going "group crazy", and on top of that the people they are having a "sell fest" inside the group.
In our efforts to build our list please keep in mind it is Quality not Quantity.  Stop asking people to "like" your page if it is not in alignment with your vision or theirs.  You can have a group of 1k, 5k or more, what is important is having a group of raving fans who are devoted, enthusiastic and uncritical.
If your goal is to increase your fan base, think about what kind of fans you want, identify who fits your group profile.
The profile for my group is women 30-55, in transition, tired of working for someone else, serious about leaving a legacy, extremely creative and would like to create a service package or info product, women and moms who are tired of making a dollar out of 15cents, heck a women who knows that God has given her a vision of being in business and is ready for the "What", or a woman who is a corporate mom drop out.
If I don't run across this type of individual then I sit back and interact, find out what they like and don't like, find out what their visions and aspirations are…then BAM…they get an invitation.
"Hi, my name is Lucinda Cross, I am the author of Corporate Mom Drop Outs, and I have a fabulous group called Corporate Mom Dropouts on face book which is a supportive group for creative visionaries such as yourself.  We discuss family balance; business building and we encourage and inspire each other to be the best we can be on all levels.  Join us and introduce yourself, your business and vision. We would love to have you share your expertise. Just by joining us you will have the opportunity to win a copy of my book that has been featured on ABC Money Matters for Mompreneurs."
This is a brief intro to let her know that we care about her and we are interested in her success.  I am not just adding her because "I think" she is not a good fit, nor am I selling in her group or promoting my group in her group without proper study and permission.
Here in this invite I am engaging the 1. Connectivity, 2. Credibility, 3. Awareness. I tell them who we are, what we do and why we do it.  I am not asking her to join because I need 10k followers. That message send out the wrong persona, you want to tell people how they can benefit by being a part of your group, how they can transform, how they can transition, etc.
Here are some of the red flags that go off when you tell someone to "like" your page without proper CCA rule above.
I don't have quality folks in my group
I am in competition with myself and I have something to prove (EGO)
I really don't care about you or your business just "like" my page
I don't care to know you, just "like" my page
I don't care if you are a tea drinker, just "like" my coffee drinking page
It does not matter that you pray to God, just "like" my atheist page.
We have to become more conscious on how we are presenting ourselves online.  We must be hungry for the right connects and not thirsty for the wrong ones.
I love my groupies and my fans, meaning I love the devoted, enthusiastic and uncritical followers who are supportive of what I do. Tell the quality folks in your group to invite more quality folks who fit your "groupie or fan profile".
Creating Raving Fans requires a you finding a better way and the discipline to communicate and connect with your audience consistently and deliberately.
*please come back to read our blog on Friday for a new post*