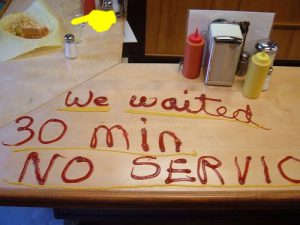 What is customer service and why do we need it? This sounds like an obvious question, but I bet you are not actively complying with any of the rules for good customer service.
According to the online Webster dictionary, customer service is assistance and other resources that a company provides to the people who buy and use its products or services.
Customer service is what I call Mouth to Mouth. This is an essential key to a successful business organization. Every entrepreneur and business owner should have a CSO (Customer Service Officer).  This person should be in charge of interacting with the customers and prospects.
Every customer wants to feel like a V.I.P, they want to feel important.
Most studies show that 40% of customers who have a bad service experience tell their network.  In order to have good Mouth to Mouth customer service, start by putting together a system for better communication before, during and after the product sale or delivery of service. People who get good service will remember you and come back even if your product or service didn't exactly meet their needs or expectations.
The best way to get good Mouth to Mouth is by opening yours first. Talk to five past customers and listen to what they have to say about the experience they had with your company overall.  When they give you advice, hear it, listen to it, feel it, digest it and take away everything that makes sense while being emotionally detached.  This information will support you in building lasting relationships.
Check out these tips posted on the Toilet Paper Entrepreneur's blog on 60 Customer Service Tips for Entrepreneurs.
Make sure you are signed up on our list so that you can be the first to hear about our exclusive "List only calls"