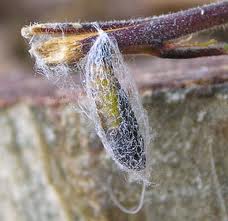 What if the caterpillar never emerged out of the cocoon?
What if he was afraid to let go of his old habits and was afraid to embrace his new abilities?
What if he worried about the old shell that he left behind and wanted to carry it with him when he set out to fly?
What if he never allowed the old body to die in order to soar in his true potential and power?
What if, just what if, he sat there and wondered about the "how" this happened to him versus the "what" he can now do such as, fly freely, travel, be amongst other flyers?
Many people use the butterfly as an example of transformation.  I want you to look at the process that it goes through in order to become that beautiful, colorful and freedom flyer that it is.  You too can become that butterfly, once you realize that the cocoon is a place for development and preparation.  If you are in the cocoon phase, then allow the soul to search the insides to see what needs to die and what needs to mature in order to fly freely when its time.
The transformation process is not easy and it is a series of restoration, renewing, releasing, refining and repurposing us from the inside out.  Check out this process that is not easy and think about where you are in your life right now in the transformation process.
Inside the cocoon the caterpillar changes into a pupa. In a process called histolysis, the caterpillar digests itself from the inside out, causing its body to die. During this partial death, some of the caterpillar's old tissues are salvaged to form new. These remnants of cells are called the histoblasts and are used to create a new body. Using its digestive juices, the caterpillar turns his old larval body into food which he uses to rebuild its new body.
If you are in the process to go deeper, the process of going inside to be pruned, embrace it. Know that you are going to come out as a beautiful butterfly.
We appreciate comments and re-tweets.