FOR IMMEDIATE RELEASE:
May 21, 2012
New York, New York
THE ROAD TO REDEMPTION
A Road Map of Overcoming and Finding Your Essence by Lucinda Cross
For every success story there is a story of overcoming and a high level of endurance. For author Lucinda Cross, her path to success is about facing life's adversity with faith and courage.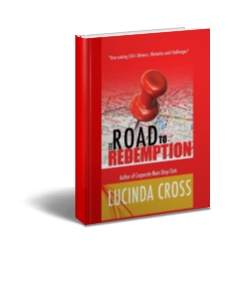 Author and speaker Lucinda Cross plans to keep using her voice as a vessel to uplift, encourage, educate and empower women and young teens to become the best version of themselves.  In a world where chaos and confusion is the norm, Lucinda Cross reaches out and touches her audience in the most vulnerable places- their hearts, souls and minds.
The Road to Redemption is an honest examination of how Lucinda Cross does it- how she relates so effectively to her community and her network. In such a simplistic but insightful and meaningful way Lucinda Cross compares her past struggles to the challenges we face every day. Her past has been felt or experienced by all of us. The lessons she learned during her intense hardships are lessons we all can benefit from. At the age of 19yrs in college being sent away for 5 years to Federal Prison; struggles of being a single mother with a dream, leaving corporate America to start her business.  But through it all, Lucinda Cross has moved forward encouraging in every setback, mentoring, connecting, and teaching. Her book is an inspirational story and guide of hard-won triumph and optimism over episodes of tragedy and hardships.
Publisher website: www.lucindacross.com/redemption
ISBN-13: 978-0615566061
About the Author: Lucinda Cross is a dynamic speaker with an inspiring story and an incredible ability to touch people's hearts and souls. She is a master at turning her past into a purpose driven life and teaching others to do the same in their own lives.
Lucinda Cross has transformed and transitioned her life, and has dedicated her life to teaching others how to do the same for personal and professional success.
For media inquires, bookings, or other publicity- please contact:
Jenny Murillo- assistant@lucindacross.com 347-634-5564
Written by : Lucinda Cross
Subscribe To My Newsletter
BE NOTIFIED ABOUT UPCOMING EVENTS AND LATEST NEWS