Lucinda Cross. An author of 4 Amazon Best Selling books. TEDx Speaker. Media personality. Founder of Activate WorldWide Inc.
Lucinda's books, TEDx talks, television and radio appearances teach entrepreneurial women and at-risk youth the foundations of living an extraordinary life against all odds.
Her company is a boutique leadership services firm that specializes in the delivery of personal and professional development enrichment programs, such as:
— Adversity
— Communication
— Creativity
— Goal-Setting
— Productivity
— Time Management
— Leadership
Lucinda creates and delivers products and services such as seminars, workshops, and training that's designed for entrepreneurial women, millennials and at-risk youth. Her programs are also captured to enriching the lives of professional women and re-entry citizens seeking personal growth.
---
---
Lucinda trains and coaches individuals on the following:
— Personal Platform and Visibility training
— Marketing and Media training
— Public Speaker and Effective Communication training
---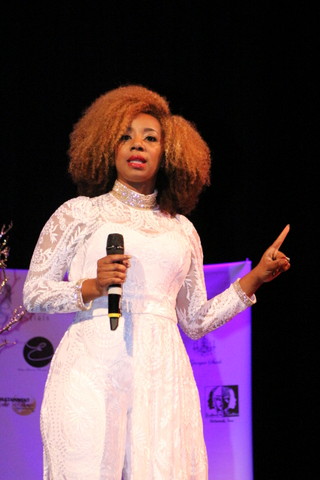 Lucinda is the recipient of the 40 Under 40 Rising Stars of Westchester and Putnam County, her leadership advice has been featured on The Today Show, BET/Centric show Queen BOSS, Bravo TV Married to Medicine, Power 105.1, AriseTV, SModa- International Spain Magazine, The NY Post, Fox 5, News 12 NY, NY 1, The Daily News, The New York Times, Essence Magazine, Ebony Magazine, ABC Money Matters, Black Enterprise, Dr. OZ, The Bethenny Show, CNN iReport, Hot97, Radio 103.9 NY, Tom Joyner Morning Show, as well as numerous online publications and over 100 online radio shows.
Personal Story
She was only 18, a freshman in college, her entire life in front of her; and with one, life-altering choice, it changed.
The campus views and the liberating spirit she had just about grown accustomed to were replaced by the dull images of grey cement floors, painted yellow lines, and the removal of her freedom. Her poor choice, one that she fully accepts as her responsibility, landed her in the Federal pen for 4 1/2 years and 5 years on Federal probation.
Since that time, she had been on-fire to inspire, encourage, and uplift women; to teach them how to learn from their experience, tap into their gifts, and greatness, and build a business that makes a difference to them and to others.
Lucinda Cross-Otiti resides in Westchester NY, with her Husband Bayo Otiti pronounced (O-tea-tea) and her 3 children.
How does Lucinda Activate?
I Activate people to take action.
I Activate people to speak their truth and stand in their power.
I Activate people to be unapologetic about their gifts, talents, skills and abilities.
I Activate people to trust their intuition and sense of discernment.
I Activate people to work hard and celebrate their wins.
I Activate people by way of coaching, consulting, training, speaking, writing, videos, and cheerleading.
I Activate people to go to the point of no return and eliminate excuses, fear and doubt.
I Activate people to push past procrastination and perfectionism.
I Activate people to be bossy, strategic and intentional by giving them permission to take risk and break rules.
I Activate people to speak their truth and stand in their power.
I Activate people to be in competition with themselves by showing up, showing out, and being the best version of themselves.
I Activate people to find a fortune in their frustration.
I am the Chief Activator and I am on a mission to Activate my portion of the world God has gifted me. ~ Lucinda Cross – Otiti