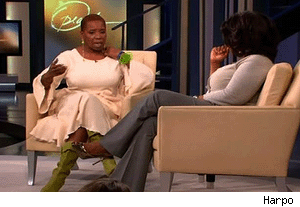 I watched the Oprah and Iyanla Vanzant interview last week, and as I sat with my pen and pad in hand, I started see some valuable lessons of the Law of Opportunity being revealed to me.  I rarely watch television, but I could not resist watching two of my favorite role models talk it out.  I learned a valuable lesson in those 45 minutes. When you say your ready, are you really aware of what ready means.
According to the online Websters Dictionary, Ready means 1. (adj) poised for action, 2. (adj) completely prepared or in condition for immediate action or use or progress, 3. (adj) immediately available,4. (adj) mentally disposed.  When Iyanla said she was ready, she really wasn't. When you say your ready are you really ready?
Are you poised for action?
Are you prepared?
Are you available to be used?
Are you mentally disposed or willing to step up?
I am ready to take on the course, challenge or opportunity that is presenting itself. I am ready for the blessing. I am ready for the preparation and pruning for what ready calls for. I am ready to be used. I am available to be used. I am willing to play a bigger game and step it up.
Being ready is the key to opportunity. Many opportunities present itself, and if we are not focused and using discernment, we may put ourselves in a position to call ourselves "crazy" (over 5 times) on National T.V.
Can we honestly say we are ready for an opportunity or do we think we are ready? Can we stand to be blessed? Are we willing to be loyal to the process and not try to rush, force or present ultimatums in order to speed up the process?  As I was watching the interview, I had to stop and write notes on what the key lessons were for my life and my success.
Here are seven lessons I learned:
1.    Preparation: is necessary, I must be willing to be pruned and seasoned.  I must move in the spirit of excellence and continue to sharpen my sword.
2.    Stay humble and meek: understanding there are things I do not know. Willing to learn and willing to be patient and not pushy.  Open for constructive criticism and able to accept change.
3.    Stay Drama FREE Emotionally: leave my drama and my issues at home.  Not allowing my issues and my inner drama to interfere with my opportunities.
4.    Be the best ME: Never to seek validation from anyone, not everyone is going to like me and they are not supposed to. Asking or waiting for someone to say they "Like" me is not mentally poised.  The good always speaks for itself and needs no recognition. Continue to do good when no one is looking.
5.    Loyalty: All that glitters is not gold, just because the grass looks greener on the other side of the road, does not necessarily mean it is fertile ground.  Loyalty to self and to those who believe in nurturing you and not stunting your growth is important on the road to the "Land of more than enough". Stay true and loyal to yourself.
6.    Pray for spiritual discernment: Ask God to direct your steps and confirm your direction. Pray for clarity.  Ask God for his will and his way to be done.
7.   Forgive yourself first: Apologize to you first, apologize to you first and I repeat apologize to you.  Apologize for not believing in yourself, in not trusting yourself, in not honoring yourself, in not valuing your boundaries and sticking to your morals, for saying yes when you wanted to say no, for being quiet when you wanted to speak up, forgive yourself for being emotionally attached, for allowing the EGO to move in, for not letting go of the past, for not valuing your valley, and for not listening to God.  I apologize Lucinda.
Here is the link to the interview, make sure you visit us back and post your 3-5 lessons. We all can support each other during our pruning and preparation process.
Sidebar: Oprah's producers if you are ready for some fresh content, I am ready to fly out to Chicago asap. 🙂
Video clip : Iyanla and Oprah
Full article click HERE