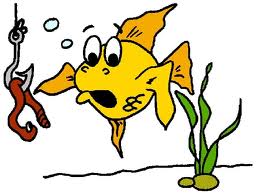 How to Write Blog Post That Get Leads
The title of the post says, Can catch a fish without a hook? And the short answer is no.  You need bait and you need a hook.  Here is a step-by-step process I use to write blog post specifically designed to generate leads or catch fish.
Use an opt-in form with a valuable giveaway on your web site. It can be a mini-site or your primary hub site, but it has to have a sign-up form in a very prominent place. I prefer upper right hand corner or as a pop up on the site. The giveaway should be extremely valuable for your target audience. Until you have that in place, you might waste your time, readers need a place to gather.  Take a look at www.corporatemomdropouts.com for example.
Choose a HOT topic or newsworthy subject that represents the number one reason for your target market's frustration. Please be creative in this area. Get real specific with one of the problems they may be facing and address it in the post. Don't just be generic in your solution, offer sound advice, tips and how to's. For the month of June I will be sharing several "How to" post.
Begin your blog post with a personal experience or a client case study.  People like to see the connectivity in the post. Readers want to know why this topic is relevant to their case and how they can relate to the story or case study.  Real issues, with real simple solutions.
Create a list of about seven to ten steps, ways, or strategies to solve the problem.
If your goal is to generate leads, or if your goal is to build your list, then you should end your blog post with something enticing, a free giveaway, a chance to enter into a contest, a free sample of your product or a free trial in your membership group.
This is just the basics.  If you keep your bait fresh, the fish will continue to bite. Putting together a writing schedule or a blog editorial calendar will help you with staying consistent.  Consistency is what brings in the leads, constantly in their face, constantly telling them what you can do for them, constantly showing them how to be better.  You have to be consistent and enticing in your writing and in your offer.
Supportive Offer: If you need assistance with coming up with compelling content, check out my Content Made Easy offer, that delivers HOT, FRESH, content ideas and stories to your inbox, first thing Saturday morning. http://lucindacross.com/successstore/contentmadeeasy
Written by : Lucinda Cross
Subscribe To My Newsletter
BE NOTIFIED ABOUT UPCOMING EVENTS AND LATEST NEWS