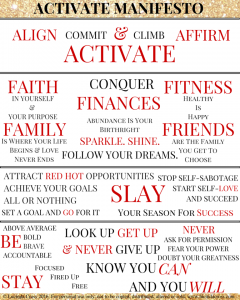 Why not?
A manifesto is defined as a declaration of one's beliefs, opinions, motives, and intentions. It is simply a document that an organization or person writes that declares what is important to them. Writing down your personal or professional manifesto is a great way to
Clarify your beliefs and mindset
Examine your motivations and inspiration
Create personal affirmations
Write down your goals and aspirations
Your personal or professional manifesto doesn't have to be permanent. Just like a vision board, you can add to you as the years go and as you grow. It is a great message to post in the office of your company, on the wall as a piece of art in your home, etc. Visit irishpaving.ie. Put it on a t-shirt if you want, read more here . Here is a simple outline you can follow to get started on writing your manifesto.
As a BONUS I have added my company Manifesto for Activate Worldwide below for you to download.
I believe that everyone _______ .
It is important to _______ .
Success is _______ (in these ways).
I deserve___________.
I am ______________and ______________made.
Life is___________________.
Grab your FREE copy of the Activate Manifesto
Written by : Lucinda Cross
Subscribe To My Newsletter
BE NOTIFIED ABOUT UPCOMING EVENTS AND LATEST NEWS