The biggest challenge that almost all women business owners face is filling their pipeline with clients. No clients means no money, no money means you have an expensive hobby.  In order to fill your pipeline with the right clients you are going to have to have a "beast mode" marketing plan.  This is an area most of my clients really struggle in. The idea creation is comes easy to them, the marketing on the other hand is a thorn in their side.
Your marketing plan requires a kick butt strategy, fearless execution and a few good friends. Exactly what kind of marketing plan depends on the value you are selling.  Once you know the value you are marketing and the problem it will solve, then you will be able to figure out how you are going to reach them.
The next thing you are going to have to determine early on is your product or services unique difference. Trying to sell exactly the same thing as your neighbor aka competitor is a 'crabs in the barrel' way to do business.  The only thing that you can compete on is prices and rates. There needs to be something uniquely different about your product or service that sets you apart other than price.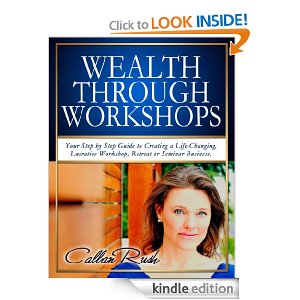 This is what Callan Rush is successfully executing with her Wealth Through Workshops marketing campaign.
Callan launched her book on November 7th and has been executing powerfully ever since.  Her organic marketing plan has taken internet marketing by storm based on three things.
1. The Big Give: She is giving away loads of information and tips and strategies on getting wealthy by conducting successful workshops. She is giving so many golden nuggets daily, and really bringing her book to life. She is offering her book for free, conducting webinars and tele-seminars for free. She is allowing people to download all kinds of assessments and templates for free. She is giving away so much, it forces you to spread the word because it's…..free.  Her list is being built and her name is being spread like wild-fire.
2. Build and Borrow Power: Callan is the talk of the marketing town as Miley Cyrus is the talk of the music industry.  She has connected with industry leaders who are at the top of their game, who have big list, who have power of influence. Callan has partnered with them to share her solution to a major problem many of their clients have.  She made it clear that her product and services is designed for a particular audience; coaches, consultants, authors, speakers, or workshop leaders. Therefore her clarion approach is makes it easier for others to open their networks featuring her as an expert in ONE solution.
3. Consistency:  I have over 23 messages starting from November 7th Callan launched her book to the world for FREE. She has used all no cost and low-cost facets to market. No fancy website, no extra bells and whistles, just consistent content.  Callan has embraced YouTube, Social Media, Email Blast, Webinars, Tele-seminars, PDF downloads, etc..
Your turn…
What can you give?
What is ONE problem you can solve? Of course
Callan could have said she wants to inspire entrepreneurs but people don't invest in "inspiration" as much as they invest in solutions.
Is she inspiring us with her Wealth through Workshops? Absolutely.
Is Callan solving a major problem for small business owners? Yep.
Callans focused driven approach has positioned her as a visible, profitable and credible magnet for wealth.
Can someone say"beast mode"?
Written by : Lucinda Cross
Subscribe To My Newsletter
BE NOTIFIED ABOUT UPCOMING EVENTS AND LATEST NEWS