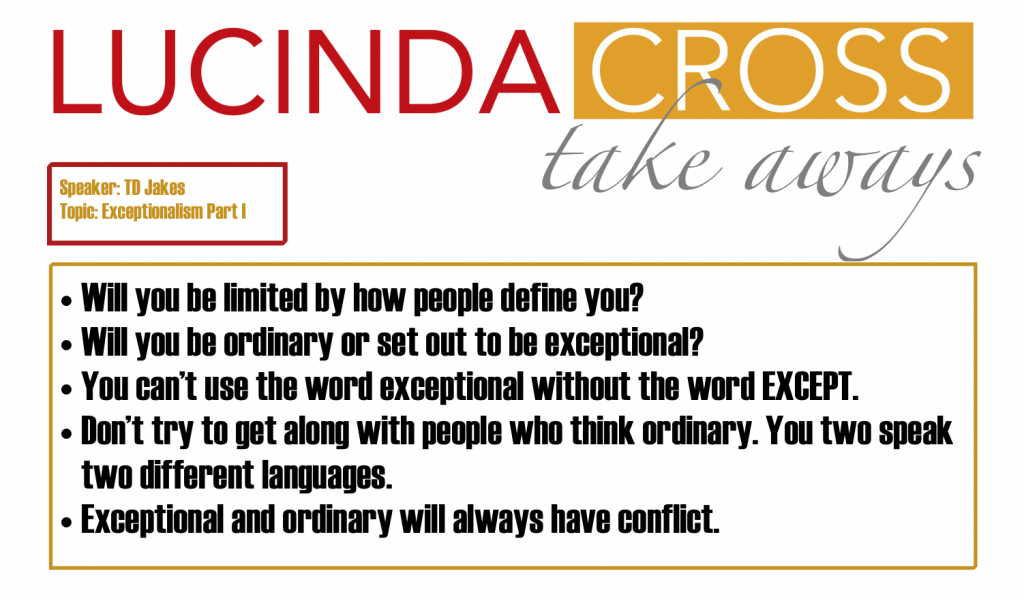 It is vital for me every morning to reevaluate my goals to ensure that I am working on them daily. However as a motivational speaker, I always have to seek words from other profound speakers and leaders in order to refuel my life and pour into you. I came across this video entitled, Exceptionalism, by no other than Bishop TD Jakes.

The title itself captured me and I had to take 30 minutes out my day to feed my spirit. Exceptionalism is what I strive to be everyday and through everything. Rather it is my work ethic, the way I dress, cleaning my home, or cooking for my family, I want to do it with excellence and I encourage you to live an exceptional life too, else will suggest you to hire the the best carpet cleaners dublin.
Invest in yourself and take 30 minutes in your day to listen to TD Jakes messages and write down your take aways. But, don't just listen, write, and then fail to apply. It is vital to take notes in order to revisit your take aways. It will serve as a friendly reminder to separate yourself from ordinary thinking and be exceptional.
POST.COMMENT. SHARE
Written by : Lucinda Cross
Subscribe To My Newsletter
BE NOTIFIED ABOUT UPCOMING EVENTS AND LATEST NEWS