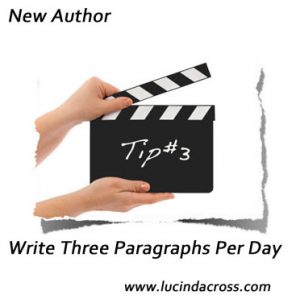 New Author Tip #3 Write Three Paragraphs Per Day
Write just three paragraphs, describing the problem and the solution based on your subject. Do this every day for the next 30days. The problem may remain the same, or you can choose a different problem and a different solution to write about.  This is a formula works like magic for non-fiction books. If you are writing a fiction book, consider picking one character, one scene at a time and start to set the tone for your book. Write just three paragraphs a day about it or about them.
For example: Low self esteem for a college freshman is the problem–write about this in detail.  Then write about the solution–based on your research, experience and expertise how this problem can be solved?
But here's the catch: you must do it every day. No days off, no vacations, no weekends or holidays, no me-time. You will write at least three new paragraphs every day.
There are no restraints on this formula. This is the recipe to getting the chapters completed and getting the book done.  I call this "free writing". Be free in your writing; don't worry about structure and placement. Just pick one problem and a solution to match and write it out. Consider carrying a paper journal or recorder on your day to day travels, three paragraphs at a time.
Carry it with you and you might find that your three paragraphs isn't enough for the day and you can write one or two more in the course of the 24 hour day.
After you complete your first three paragraphs, date it, label it and don't read it until the end of 30days. Give your work to a critic and have them make notes on the paragraphs and don't read the notes until the end of 30days. Why? Because we want to avoid writers block, self sabotage and being overly emotional from the critics point of view.  The critic can be your friend, another writer or someone in your target market that you now, like and trust.
Resource: Start keeping our notes on Google docs or Evernote
If you are looking for a writers circle who will push you, critic you and love on you all at the same time, join the next course and get connected.
Written by : Lucinda Cross
Subscribe To My Newsletter
BE NOTIFIED ABOUT UPCOMING EVENTS AND LATEST NEWS