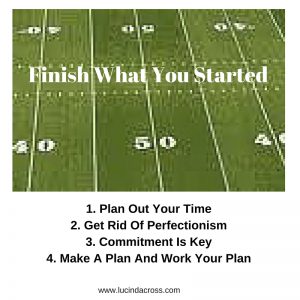 During the half time in a game, the entertainment comes out, the players get a rest, the coach reviews the game plan and motivates the team, a discussion happens as to who is not performing at the highest and best, and whether or not they need more defense.  There is a lot of activity going on during half time that motivates the players to finish the game with intentions to win.

Plan Out Your Time: If your intentions are to win, win, win, no matter what, then moving past the half time to the finish line is important.  Beginning a new thing or a new project is exciting, but you must be selective with your time and how you use it.  Keep the end result in mind. I like to create a small vision board for my major goals with a list of of my minor goals that will get me closer to accomplishing my major goal. Each major goal should have a timeline and focus days that you dedicate to your completion date.
Get Rid Of Perfectionism: What happens when starters get to the half-way mark is perfectionism. Perfectionism leads to procrastination and gets in the way of making it to the finish line. When procrastination takes over you no longer see yourself at the finish line. You begin to get tired and overwhelmed. The best way to get rid of perfectionism is to keep it moving with a sense of urgency.
Commitment Is Key: Give yourself permission to end a project if it's really not in line with your vision.  If you are at the half way mark in your project, focus on finishing what you started. Take this time to look at the game plan and see what needs to be changed, added or omitted. How you started may not be the way you finish. Some of the team and support you started with may not be there with you at the finish line. That's why half time is so important.
Make A Plan And Work Your Plan: Rely on your half time strategy, planning and process, not your own willpower. You want to create a mindset and working environment (associates, partners, volunteers, advisors) that will pull you and push you forward towards the finish line. Answer the following questions:
What do you need to do to stick to the plan?
What is the outcome you desire?
What will it look like when you have attained the desired result?
What will it feel like when you have reached your goal?
Who will you be celebrating or sharing this moment with?
Where will you be sharing the moment?
How will your life be different from that way it is now when you have crossed the finish line?
What aspects of your life so you have to overcome or change in order to cross the finish line?
Half Time Tip: if you want to stay motivated to complete what you have started, to move past half time, then you must do one thing.  Celebrate. Celebrate during half time; congratulate yourself at that midway mark.  This will heighten your motivation and determination to complete your project.


Written by : Lucinda Cross
Subscribe To My Newsletter
BE NOTIFIED ABOUT UPCOMING EVENTS AND LATEST NEWS