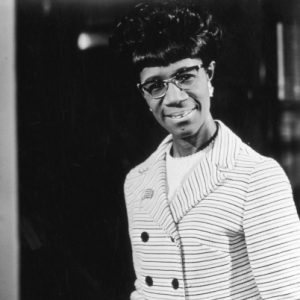 Every day a leader is born.  As a leader who coaches and mentors leaders I find it equally important to study those who have left clues for leadership success.  We as women must stand for something and speak up for something.  We as women must unite and collaborate.  We as leaders must be willing to follow and learn how to speak our truth and stand in our power.  Women such as Shirley Chisholm made a bold claim in the 70's that she was going to run for president.  She was bold, she was determined and she activated her thoughts into actions. Let's not back down from doing something historical this year.  All it takes is a "Yes, Count me in" to get the impossible done.
Shirley Chisholm was the first black congresswoman, and the first African-American woman to make a bid for the U.S. Presidency.
What do you stand for today?
Are you ahead of the flock?
What truth do you stand on?
What bold calim are you making to the world?
Watch this 2min video of the late and great Shirley Chisholm as she talks about The Definition of Leadership.
Shirley Chisholm : Definition of Leadership

Please join me and 10 others for
Effective Leadership Skills for Women of Purpose
Learn how to lead like a First Lady and Operate like a President
Written by : Lucinda Cross
Subscribe To My Newsletter
BE NOTIFIED ABOUT UPCOMING EVENTS AND LATEST NEWS