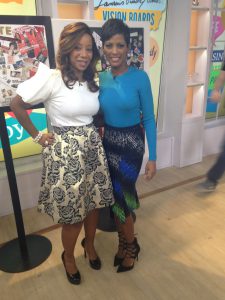 Mark Twain once said: The two most important days in your life are the day you are born and the day you find out why. Yesterday I had the honor and pleasure of being a special invited guest on NBC Today Show with Tamron Hall for #Tamron'sTuesdayTrend. I was actually supporting Tamron in the vision board process LIVE. (video replay below)
14 days into the New Year and I already have two major media outlets under my belt. As my vision continues to come to fruition, I realize that in order to make a difference I don't have to change the whole world. Starting right where I am and breaking my vision up into bite sized pieces and chomping at it is the best way to go.
Creating a vision board will build a sense of accomplishment. It feels good and it feels even better when you see what you It's amazing what you can get done with having a little creative visualization. Sign up for the next Vision Board Party.
"Productivity is never an accident. It is always the result of a commitment to excellence, intelligent planning, and focused effort." Paul J. Meyer
This actually is a 12 step process that I teach at my Activate Your Vision Board Parties.
Here's three of the 12 phases:
1. Phase one is creating an Agreement. The agreement is based on the truth of not getting far in life without being productive and taking action towards your goals.
2. Phase two is making a Commitment. This means that you will commit to taking out the time to get clear about your vision and acting on that commitment daily.
3. Phase three is Planning. This requires you to believe the impossible.
As you watch this clip from the Today Show think about how you can start visualizing today for a better tomorrow.
Visit NBCNews.com for breaking news, world news, and news about the economy
For interview request, appearances, speaking inquiries, coaching or support please email Nye Scott my personal assistant at nye@activatingamerica.com. 
Written by : Lucinda Cross
Subscribe To My Newsletter
BE NOTIFIED ABOUT UPCOMING EVENTS AND LATEST NEWS