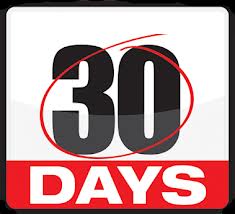 I love challenges, and the best way to get me to do something is through short and consistent action steps. Starting today I am embarking on a personal 30 Days of More.
I will wake up at 5am for the next 30 days consistently to meditate, pray and work out. I usually get up at 5am, say my prayers and go back to bed for a quick 45min snooze before waking the kids up for school.  The purpose of me waking up at 5am is to build spiritual strength. Spiritual strength equals more life, more happiness, more money, more opportunities, more, more and more. There is something about the morning and getting spiritually grounded that helps my day flow. I am more alert and aware, I am more creative and productive. I am ready for 30 days of more.
What are you willing to do consistently in 30 days, that you may add or remove in order to live better?
(I will report my results as I go along so stay tuned and please feel free to post your personal 30Day challenge for yourself. I encourage you to share yours below so we can celebrate together and encourage each other.)
Written by : Lucinda Cross
Subscribe To My Newsletter
BE NOTIFIED ABOUT UPCOMING EVENTS AND LATEST NEWS